WASA Duplicate Bill 2021 – How To Check WASA Duplicate Bill Online
Learn the Method of WASA Duplicate Bill and the WASA Duplicate Bill Online Check in 2021
Water and Sanitation Agency (WASA) is an established government body that looks after the water supply sewerage and draining system in Lahore. It was started by Lahore Development Authority in 1976. WASA is committed to providing sustainably in Lahore by overlooking the planning, designing, development, and maintenance of all sewerage and water systems in Lahore.
To get a water connection in Lahore by WASA, you must contact the Sub-divisional office and submit an application after your which you will get the installation. WASA maintains the water system in every household and consumers get monthly bills to keep up with the maintenance.
WASA Duplicate Bill 2021
WASA sends monthly bills to households, however, with the advancement of technology, the Punjab Information Technology Board introduced an Online Duplicate Billing System in 2013 with which you can easily learn the WASA duplicate bill online check method.
How to Check WASA Duplicate Bill in 2021
Losing the monthly physical copy of your bill can be a nuisance especially when it comes to retrieving your bill by getting a duplicate copy. To provide consumers with the utmost convenience and to avoid the hassle and confusion of getting the WASA duplicate bill by going to WASA offices, users can now easily download and check their WASA duplicate bill online.
Head over to the WASA official website at https://wasa.punjab.gov.pk/
Scroll to the "bill" header on top
After clicking on the Bill section, you will be redirected to a new page where you have to click on "Duplicate Bill"
You have to now enter the 8 digit Account Number that you can find on any previous bills
Click on Submit
Now you can download and print the WASA Duplicate bill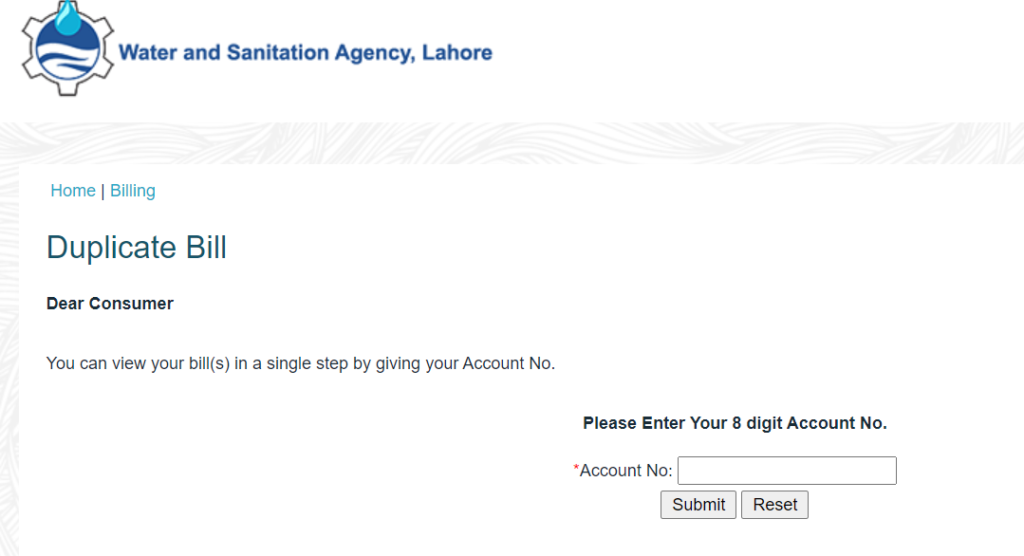 How to Pay the WASA Duplicate Bill in 2021
After you have downloaded the WASA duplicate bill online, you can now pay your water bill at the cash counter on any of the following banks:

• NADRA Kiosk Center
• General Post Office
• Allied Bank Limited
• National Bank of Pakistan
• Bank of Punjab
• Bank Alfalah Limited
• Bank Al Habib Limited
• Dawood Islamic Bank
• Zarai Taraqiati Bank Limited
Skip the hassle and pay all your utility Bills with Daraz! dBills brings you a convenient way of paying your bills on time.

Learn More: How to Pay Your Bills with dBills
Also Read: KE Duplicate Bill 2021 | HESCO Duplicate Bill 2021 | GEPCO Duplicate Bill Online Check