7 Delicious Ways to Use Swiss Premium Cream Cheese Spread
Say hello to Pakistan's very first cream cheese spread! This delicious, creamy spread is perfect to spread on sandwiches, crackers, or enjoy as it is straight from the jar! It comes in two delicious varieties; cheddar cheese and original cheese. You can find both products on Daraz! Click to view the products!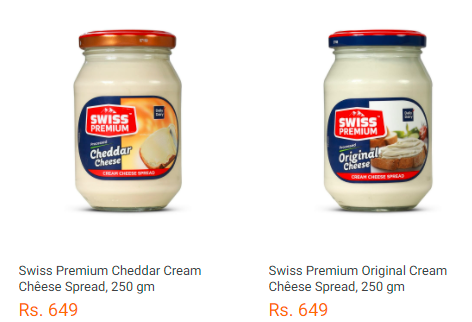 Delicious Ways to Use Swiss Premium Cream Cheese Spreads
Although we think that Swiss cream cheese is delicious on its own, we cannot deny that we love experimenting with different recipes. Here are a few unique ways we love using cream spread!
1) French Onion Dip
This delicious dip is perfect to serve as an appetizer or snack. It requires very few ingredients but has so much flavor you'll constantly be craving more. Spread onto bread, dip with some crackers and enjoy!
1/4 cup swiss cream cheese spread
1 large onion, chopped
1/4 tsp salt
1/2 tsp Worcestershire sauce
Splash of milk
Spring onion, chopped
Olive oil
Crackers, bread, veggie sticks to serve
In a pan, add some olive oil and your chopped onion and salt. Let the onions cook on low heat for about 15-20 minutes until they're a light caramel color. Once they're cooked, set them aside and let cool. In a bowl, add your cream cheese spread, splash of milk and Worcestershire sauce. Mix together and add your caramelized onions. Top with a sprinkle of chopped green onions and serve with any crackers, bread or veggie sticks of your choice!
2) Delicious Cake Frosting
This versatile cake frosting can be used on any type of cake but goes best with chocolate, red velvet, and carrot cakes. The creamy tang of the cream cheese with hints of vanilla and the sweetness of powdered sugar make it taste like a dream!
1 cup swiss cream cheese spread
1 cup powdered sugar
1/4 cup unsalted butter, room temperature
2tbsp milk or more if required
1tsp vanilla essence
Add your cream cheese, butter, and powdered sugar to a bowl and beat it until it's smooth. If it's too thick, you can add some milk to loosen it up. Add your vanilla essence and give it a good mix. Chill in the fridge for 15 minutes to half an hour to firm up a little before spreading it on the baked goods of your choice!
3) Bagel Breakfast Sandwich
Bored of eating the same breakfast every day? Try this delicious bagel recipe and enjoy your breakfast in a new way! This sandwich can also be made with a fried egg or ommlette but we've decided to make it with scrambled eggs.
1 bagel of choice
2tbsp swiss cream cheese spread
2 eggs
4tbsp milk
Salt & pepper
Chili flakes, optional
Leaf of lettuce
Tomato, slices
Cucumber, slices
Add eggs and milk to a pan on low pan and stir until you get cooked scrambled eggs. Mix in salt and pepper. Set aside. Toast your bagel, spread your cream cheese and add your lettuce, top with scrambled eggs, cucumber and tomato slices and bagel top. Enjoy!
4) Creamy Meetha Paratha
Have your morning paratha with a delicious creamy twist! This meetha paratha is going to be replacing your love for nutella parathas very soon!
1 paratha
2-3 tbsp swiss cream cheese spread
1tbsp sugar
Sprinkle of cinnamon, optional
Spread cream cheese on your warm paratha, top with a sprinkle of sugar and cinnamon and enjoy a delicious sweet treat.
5) Fruity Yogurt Cream Cheese Dessert Cup
Want a delicious, fruity dessert that stands out from the usual options? This recipe for yummy yogurt cream cheese cups is a total crowd pleaser for kids to adults alike!
3-4tbsp frozen berries
1tbsp sugar
4 tbsp water
1/2tsp lemon juice
1/4 cup swiss cream cheese spread
1/4 cup thick yogurt
1/2tsp vanilla essence
Fresh fruit for topping
Add frozen berries, water and sugar to a pan and cook on low heat until it becomes a loose jam. Mix in lemon juice and cook for a few more minutes. Set aside to cool. In a bowl, add your cream cheese, yogurt, and vanilla essence and mix. In the cups you will serve this in, layer some cream cheese yogurt mixture at the bottom, top with a tablespoon of the berry jam and fresh fruit of your choice. Repeat the layer of cream cheese yogurt, jam, and fruit until you get to the top of the cup. Top with more fresh fruit and enjoy!
6) Mac and Cheese
Mac and cheese is such a classic dish but this little twist that we'll add is going to make it even better – TRUST US!
Boiled macaroni
1 tbsp butter
1 1/2 tbsp flour
1 cup milk
1tbsp garlic powder
1/2 tbsp mixed herbs
1/2 tbsp paprika
2tsp chilli flakes
1/2 cup shredded cheese of your choice
1tsp swiss cream cheese spread
1tsp swiss cheddar swiss cream cheese spread
Salt & pepper
Add butter to a pan, let it melt. Add flour and cook until it changes color. Slowly add in your milk while whisking to prevent lumps. Cook this mixture until it thickens then add in all your herbs, cheese and cream cheese spreads. Let it cook for a few minutes and remove from heat. Mix in your boiled macaroni and serve!
7) Chocolate Cheesecake Brownies
Chocolate, cream cheese, brownies – all words we can't get enough of! Try these chocolate cheesecake swirl brownies for yourself and you'll see what we mean!
1 boxed chocolate brownie mix, made according to instructions
1 cup swiss cream cheese spread
1 egg
3tbsp sugar
1tsp vanilla essence
Make the batter for your boxed brownie as instructed on the packet. In a separate bowl, mix cream cheese, egg, sugar, and vanilla essence. In a baking pan, add your brownie mix and swirl the cream cheese mix between the batter. Bake as instructed on the box, slice into squares and enjoy!
Enjoyed reading this article? Find more on Daraz Life!
You might also enjoy: