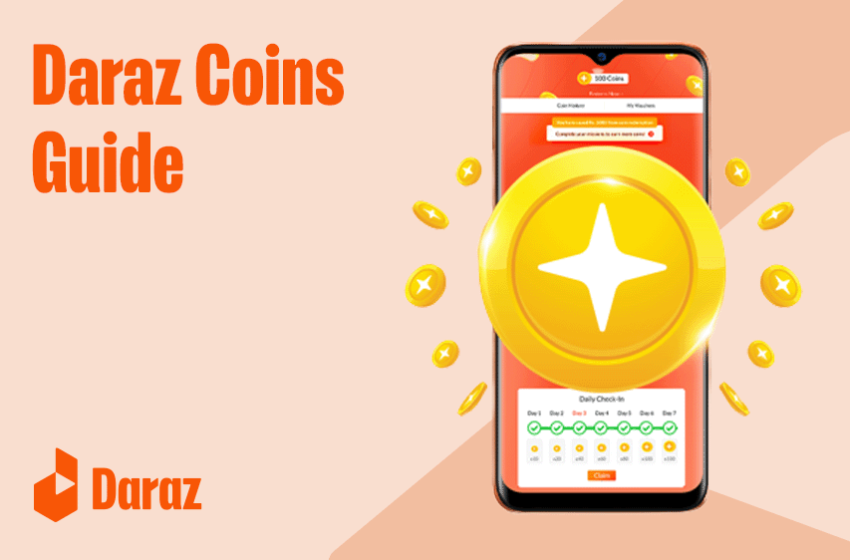 Daraz Coins Guide – How to Collect Them & Get Discounts on Daraz!
Update: Daraz Coins are now Daraz Club Loyalty Program!
Daraz is excited to announce that it has launched Daraz Coins, an exciting new feature on the Daraz App with which you can earn points on Daraz. These coins are points you earn on Daraz that are redeemable against discount vouchers. With this Daraz customers can save big on their next purchase so save immensely!
Who doesn't love to earn rewards for discounted shopping? The best part, with Daraz Coins, you can get a chance to claim your reward coins EVERY DAY!
The more coins you have, the bigger your reward is. So, if you're wondering how to stay on top of all the ways you can make the most of Daraz Coins then we're here to help.
What are Daraz Coins?
Daraz Coins are a way to earn rewards when you shop on Daraz. You can use Daraz Coins to get discounts on your next purchase and also avail offers more conveniently than ever! With Daraz Coins, you can claim daily rewards and more your shopping worthwhile on Daraz!
How to Collect Daraz Coins?
With Daraz Coin, shopping online is more rewarding than ever, apart from just winning big, you can even get a chance to shop without spending as well! And the process is as simple as ever. You can earn Daraz Coins through multiple ways. Everyone's a winner with Daraz Coins!
The method to collect these coins is easy and the rewards are endless. You can earn these Daraz Coins in three ways that are super simple:
But firstly, to get Daraz coin, go to Daraz app and click on "Coins" on top right corner.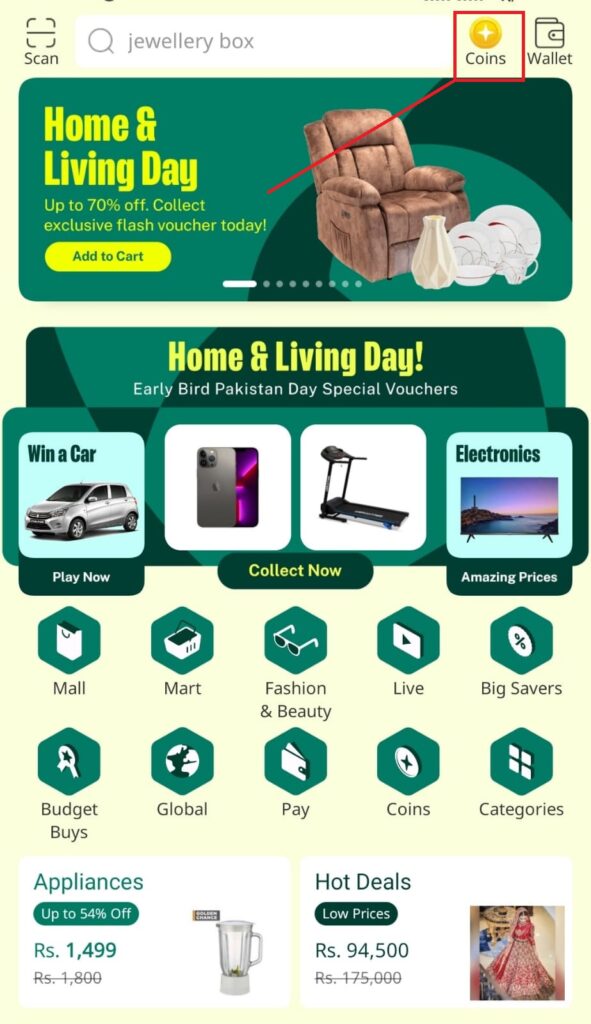 Method: 01 – Daily Check-in Activity
You claim coins by checking-in daily for 7 days on the coins page that you can find on the Daraz App. The last login on the 7th day will have the biggest reward so make sure you log in daily as missing a day will require your process to be reset.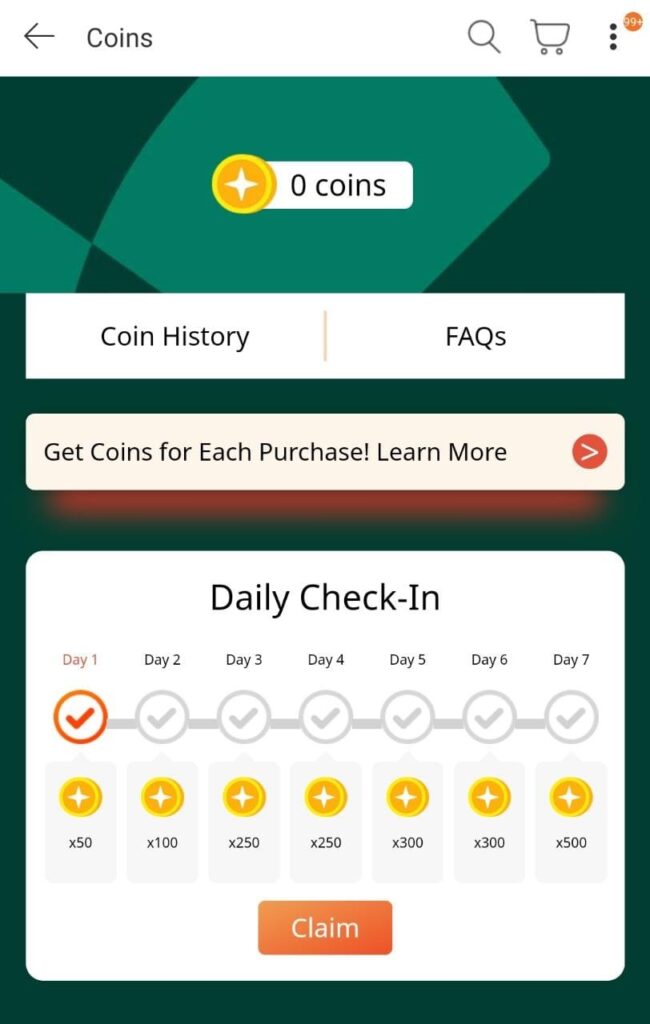 Method: 02 – Complete Daraz Missions
You can also earn coins by completing exciting missions on Daraz. It will be the pathway to you reaching your ultimate goal, winning. There are a variety of missions you can complete such as browsing a page, following stores, add to cart, share items, or search items. They're as simple as ever!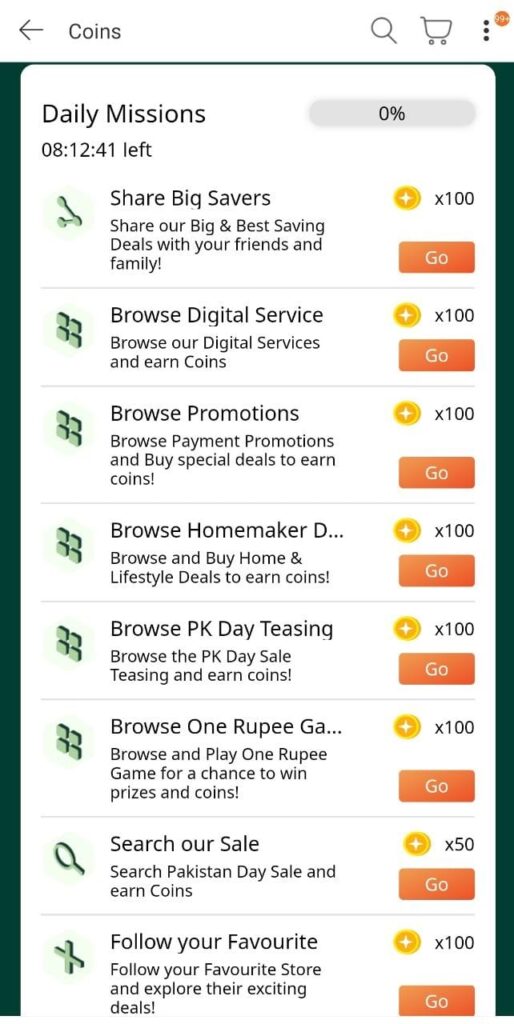 Method: 03 – Spend Min. 1000 Rupees on Daraz
The more you shop, the more you earn rewards! With every purchase on Daraz, you can earn Daraz coins in return. You will receive coins when your order is delivered.
Winning is endless with Daraz, so don't wait any further, start collecting the coins now to earn more rewards!
How to Use Daraz Coins?
Now that you're set on how to collect Daraz coins, the next and the most important step is to know how to use your Daraz Coins to make the most of discounts! You can use Daraz Coins to get huge discounts by claiming vouchers in exchange for the coins. The more coins you have, the higher your discount voucher will be.
Follow these steps to get discounts with your Daraz Coins:
Head over to the Daraz Coin feature next to the search bar
After you have collected enough coins, you can convert your coins to vouchers based on the number of coins you have
Once you collect the voucher, it'll be automatically added to your My Vouchers page.
At the time of checking out, you will get a discount for using that voucher redeemed by your earned coins.
Now, you're all set to enjoy the discounts with Daraz Coins!
[Click Here to Learn How to Use Daraz Voucher]
You can check your coin history on the main Daraz Coins page where you can how many coins you have collected so far and you can check all your transactions as well. From checking the details of how much you have earned, how you have spent, and what you're left with.
The Daraz Coin feature is only available on the Daraz App so make sure you have the latest version of the Daraz App downloaded!
So, don't wait any further, head over to the Daraz App now and started earning your rewards and discounts now. Moreover, if you're a new user, you can get a Daraz New User Discount as well. Happy Shopping!
[Read: How To Get Daraz New User Voucher ]
Daraz Coins Value
Daraz coins work as a digital currency that you can use to avail discounts on your overall shopping on Daraz. Here is the simple explanation about Daraz Coins value and how much discount you can get with them.
Daraz Coins Value: 50 Daraz Coins = Re. 1 PKR
Maximum Discount: 7,500 Daraz Coins = Rs. 150 PKR
50 Daraz Coins is worth 1 Rupee. The maximum Daraz Coins you can use on a single checkout is 7,500 Coins which means you can avail a Rs. 150 discount max with Daraz coins on a single checkout.
---
Daraz has some interesting discounts and offers lined up for its user on this Pakistan Day Sale! Check out our blog to learn about mega deals and countless discounts on over 20 million products!