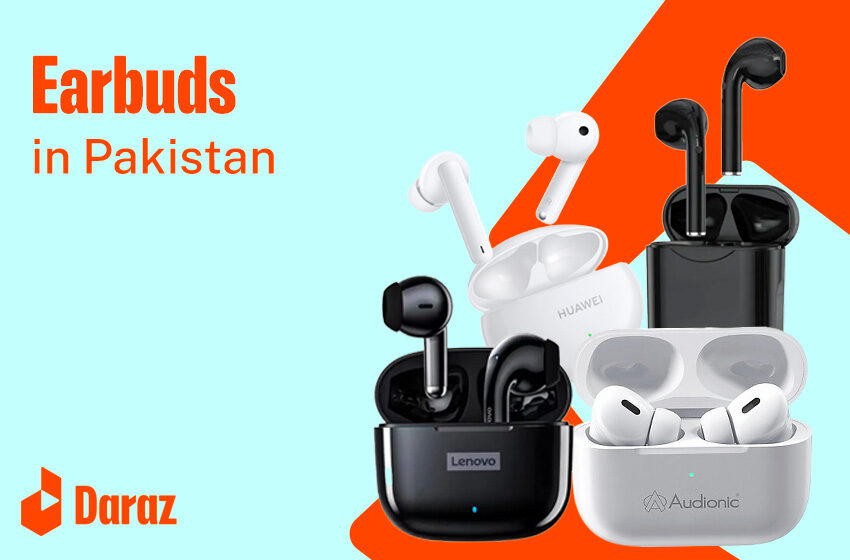 5 Best Stylish Wireless Earbud Model Prices in Pakistan
In a world that's always on the move, wireless earbuds have become a game-changer for music enthusiasts in Pakistan. No more tangled wires or restrictions; these nifty little devices offer freedom and convenience while delivering a seamless audio experience. If you're looking to unchain your music and embrace the wireless trend, this article will explore the best wireless earbuds price in Pakistan, helping you make an informed choice.
Why Choose Wireless Earbuds?
Wireless earbuds have gained immense popularity for several reasons
No Tangles: Say goodbye to tangled wires with the convenience of wireless earbuds.
Freedom of Movement: Enjoy unrestricted movement without being tethered to your device.
Seamless Connectivity: Effortlessly connect to your smartphone or other devices via Bluetooth.
Compact and Portable: Wireless earbuds are compact and easy to carry, making them perfect for travel and daily use.
Superior Sound Quality: Many wireless earbuds offer excellent sound quality and noise cancellation features.
List of 5 Wireless Earbud Prices in Pakistan
To help you find the best value for your money, here's a comparison of the prices for popular wireless earbud models from the top brands:
(Note: Prices are subject to change and may vary based on promotions and discounts.)
3.1 Soundcore
Soundcore is a reliable brand known for delivering high-quality wireless earbuds at affordable prices. Their earbuds come with the latest Bluetooth technology, ensuring a stable connection and clear sound. With long battery life and comfortable fit, Soundcore earbuds are an excellent choice for music lovers on a budget.
3.2 Apple AirPods
Apple AirPods offers a range of premium wireless earbuds designed for audiophiles who crave exceptional sound quality. These earbuds come with advanced features like active noise cancellation and touch controls, providing a luxurious listening experience. Though a bit higher in price, Apple AirPods are worth the investment for their impressive performance.
3.3 Baseus
Baseus has gained popularity for its trendy and stylish wireless earbuds that deliver reliable performance. These earbuds are lightweight and comfortable for all-day wear, making them ideal for fitness enthusiasts and music lovers alike. Baseus offers a good balance of quality and affordability.
3.4 Redmi Buds
Redmi Buds is known for its powerful bass and crystal-clear sound. Their wireless earbuds are designed for music enthusiasts who enjoy an immersive audio experience. With a sleek and ergonomic design, Redmi Buds earbuds fit snugly in the ears, ensuring maximum comfort during extended listening sessions.
3.5 SoundPeats
SoundPeats offers wireless earbuds with a focus on versatility and functionality. These earbuds come with features like water resistance and long battery life, making them suitable for outdoor activities and travel. SoundPeats earbuds are an excellent choice for those seeking durability and reliability.
Conclusion
Wireless earbuds have revolutionized the way we enjoy music, offering convenience, comfort, and superior sound quality. In Pakistan, the market is flooded with top-notch wireless earbud brands that cater to various preferences and budgets. Whether you're a music enthusiast or a fitness buff, get the best wireless earbuds price in Pakistan.
Before making your purchase, consider your budget, preferred features, and sound quality requirements. With the information provided in this article, you're ready to unchain your music and embrace the world of wireless earbuds for a tangle-free and enjoyable listening experience.
Also, Read Best Headphones in Pakistan | Best Power Bank | Derma Shine Facial Kit | Best Women Watches | Wax Heater in Pakistan | Best Eyeliner in Pakistan | Saeed Ghani Hair Growth Water| Glycolic Acid Serum for Pigmentation | The Ordinary Peeling Solution | Top 10 Best Whitening Facial Kit in Pakistan 2022, 10 Best Sunblock in Pakistan for Every Skin Type, Best Night Cream in Pakistan in 2022 to Fight Wrinkles | Best Perfume for men in Pakistan ]