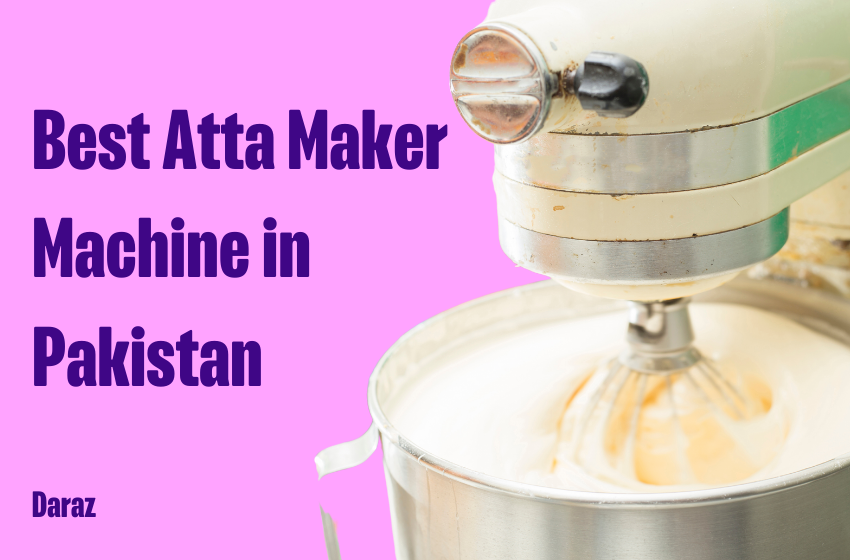 Make Perfect Rotis at Home: Top 8 Atta Maker Machines Price in Pakistan
Are you looking for the best atta maker that will make your life easier? Look no further than the amazing atta makers available in Pakistan! Not only do they make it easier to create delicious meals, but they also save time and effort. In this blog post, we will explore the top 8 atta maker machine price in Pakistan and what makes them stand out! Get ready to enjoy delicious meals without the hassle of manual kneading!
Price List of Atta Maker Machines Price in Pakistan
1. SECO Dough Maker / stand mixer / Cream Mixer / Atta Gunday wali machine
Meet the SECO Dough Maker, the all-in-one stand mixer and dough maker for your kitchen. Featuring a 1000W DCMotor, this machine boasts 8-speed levels for greater control over mix time. The dough container easily separates from the body to make it effortless to clean after use. Plus, you can see what is going on inside using the transparent top cover and separate removable lid in the middle to add seasoning or extra ingredients with ease. Utilizing microchip technology, you can create doughs of various consistencies including fermented doughs and heavy bread or pasta doughs quickly with this high-performance machine.
It has a 5 Liter non-stick bowl, cool touch stainless steel housing, an auto temperature controller, and a timer, and its compact size makes for easy storage. It's thermostatically controlled and has a power & ready light that helps you get your dough-making done quickly & easily. Plus you don't have to worry about messes with its non-stick surface – cleaning up after yourself is a breeze! Get the best atta maker in Pakistan today: the SECO Dough Maker!
2. Abdullah Kneading Dough Maker – AE-900A
Introducing the Abdullah Dough Maker – AE-900A! Pioneer of Dough Kneaders since 1958. This incredible kitchen appliance offers an easy way to mix and knead the dough for pizzas, chapatis, and kababs. The stainless-steel bowl provides durability and is easy to clean. With its thermally protected motor and electric seals, you know you can rely on this product for all your dough-making needs. The food-grade plastic material provides safety and reliability, while the small size makes it portable.
Additionally, It is one the best atta maker in Pakistan that has an automatic timer switch that ensures all your batter has been mixed perfectly every time. Experience effortless mixing with the Abdullah Dough Maker -AE-900A today! With a 2-year brand warranty included in this purchase, why wait? Get yours now!
3. National Dough Kneading Machine
Introducing the National Dough Kneading Machine; an energy-efficient, easy-to-use, and easy-to-clean product made in Pakistan. With its thermostat safety motor and rubber seals at the base, this atta maker is highly reliable and sturdy. Use it to knead the dough as well as mix already minced meat for preparing delicious kababs – all with a 2-year warranty!
With a capacity of 4 liters and a kneading capacity of 500 grams to 2.2 kg, it is perfect for daily dough-making needs. Its steel bowl ensures that you have consistent results every time. Now you can easily make fresh and delicious atta with ease – making this machine the best atta maker in Pakistan! Try it today and experience the ultimate convenience in kneading dough.
4. Black & Decker DM50 Dough Maker
If you're looking to improve your baking game, then the Black & Decker DM50 Dough Maker is the perfect choice. Powered by 50 watts, kneading is easier and faster than ever before. The ergonomic design ensures comfortable use and the large capacity 2.5 Kg and 3.5 L bowl makes it ideal for bulk food preparation.
Achieve consistently great results when you use this amazing tool. With its refined technology, it is the best atta maker in Pakistan and suitable for all your baking requirements.
5. Westpoint 3614 Dough Maker
This dough maker is an affordable option currently available on the market and has a powerful 800W motor to ensure all ingredients blend evenly and properly. It offers multiple speed settings to allow you to reach the perfect texture needed for any recipe such as pizza, cake, pastry, or roti.
Along with that comes a stainless-steel mixing bowl to provide durability when preparing your ingredients. It is one the best atta maker in Pakistan.
6. KENT Atta and Bread Maker Best Atta Maker Machine Price in Pakistan
Kent's atta and bread maker is a popular choice for users due to its clean design and automated kneading system. This best atta maker in Pakistan removes the need to manually do everything, making it both hygienic and safe. 19 pre-programmed cooking settings can facilitate the process of making various dishes like Stir-fry, thaw, rice wine, sticky rice, bake, etc. Making it an overall convenient option.
7. Morphy Richards Stand Mixer
Morphy Richards is a reliable brand when it comes to atta mixers. Currently available in Pakistan, this model provides customers with two years of official warranty. With up to six adjustable settings and six varying speeds, Morphy Richards' mixer is capable of kneading dough for bread, atta-chapattis, buttercreams, Victoria sponges, whipping creams, and egg whites. It also features an 800W motor as well as three separate stainless-steel attachments – a cake beater, whisk, and pastry hook – each designed for dishwasher cleaning convenience.
Additionally, this best atta maker in Pakistan has a pause button that allows ingredient addition while the system can resume where it left off if extra components need integration.
8. Panasonic Kitchen Machine Stand Mixer
Experience hassle-free baking with the Panasonic Kitchen Machine Stand Mixer! Enjoy kneading a large batch of dough at once, thanks to its 220-240 V power supply and narrow, stainless steel bowl with a capacity of 4.3 L.
The mixer also comes with dedicated attachments for stress-free baking and 8 optimized speed settings for total control. Its anti-splash stirring lid minimizes mess while its space-saving design makes it easy to store. Make all your favorite treats effortlessly with Pakistan's best atta maker!
Conclusion
Atta makers are a great way to make delicious meals with ease. With the top 8 atta maker machine price in Pakistan, you can be sure that you're getting the best quality and features for your money. From saving time and effort to providing perfect dough consistency, these atta makers have it all! So go ahead and pick one out today to start enjoying fresh homemade meals without any hassle!
Also read: Best Power Bank | Saeed Ghani Hair Growth Water | Best Serum for Acne Scars | Best Vitamin C serum in Pakistan | Best Branded Skincare Brand in Pakistan | The Ordinary Peeling Solution | Best Hand Cream in Pakistan | Best Whitening Cream in Pakistan | Best Glowing Serum | Best 24k Gold Serum | Best Retinol Cream | Best Soothing Lotion | Organic Traveller Vitamin C Serum