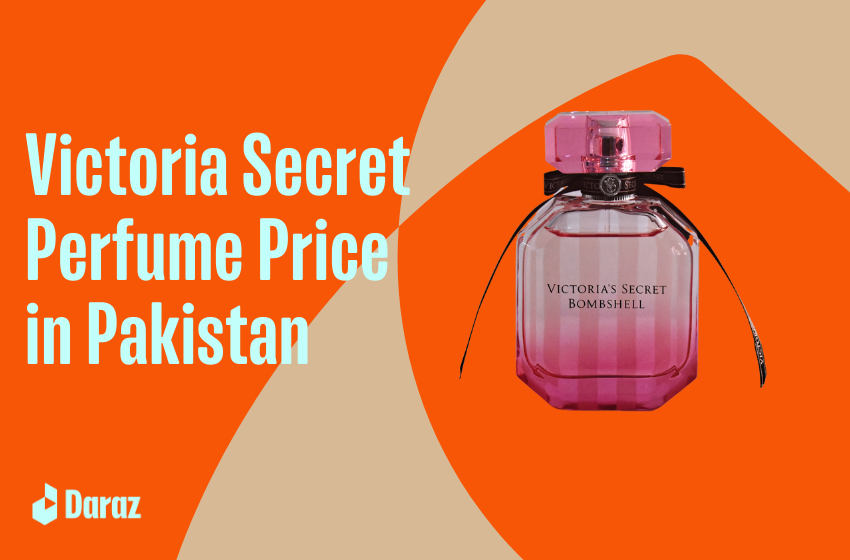 5 Best Victoria Secret Perfume Price in Pakistan 2023
Victoria's Secret is one of the most popular and well-known fashion brands in the world. It is known for its luxurious and glamorous products, including perfumes. If you are looking for the best Victoria Secret perfume price in Pakistan, you have come to the right place.
In this article, we will provide a list of the 5 best Victoria Secret perfumes with their prices in Pakistan. We will also discuss how to choose a good perfume and provide some tips on how to find the perfect scent for you
Price List of 5 Best Victoria's Secret Perfumes
1. Victoria's Secret Bombshell Eau de Parfum
Victoria's Secret Bombshell Eau de Parfum is one the best Victoria secrets pefume in Pakistan that has a sparkling blend of fresh-cut peonies and the warmth of the afternoon sun. It has an exotic mix of citrus notes and Brazilian Purple Passion Fruit that will tantalize your senses and make you feel like you're on a tropical vacation.
As you delve deeper into this enchanting scent, you'll be greeted by the delicate and pure Shangri-la Peony from Tibet, which forms the heart of Bombshell's signature floral aroma. The fragrance is further complemented by the creamy-sweet Madagascan Vanilla Orchid that adds a touch of sophistication.
2. Victoria's Secret Noir Tease
Victoria's Secret Noir Tease body mist has a divine fragrance that is not only one of the best Victoria Secret perfumes in Pakistan but is also a must-have for any woman seeking to exude confidence and sensuality.
The scent begins with a tantalizing blend of black vanilla, pear, and gardenia petals, creating a sweet yet seductive aroma that is impossible to resist. As the mist settles on your skin, it reveals a heart of blooming jasmine and creamy coconut, which adds a touch of exotic warmth to the overall scent.
​​3. Victoria's Secret Bombshell Intense
Bombshell Intense is one the best Victoria Secret perfume in Pakistan that is a seductive and daring member of the iconic Bombshell Fragrance Collection. This fragrance is an homage to the allure of the perfect red, encapsulating all that the color represents. Immerse yourself in the lush and juicy notes of Cherry, which are creamy and brilliantly bright.
The Red Peony adds a rich and intense twist to Bombshell's signature petal floral scent. The sultry Vanilla embraces the fragrance with a lavish warmth, evoking power, strength, glamour, and passion. Experience Bombshell Intense in its purest form with the Eau de Parfum, the most concentrated rendition of the fragrance.
4. Victoria's Secret Love Spell Fragrance Mist
Indulge your senses with Victoria's Secret Love Spell, a bewitching blend of floral and fruity notes that will make you feel like you're walking on sunshine. It is one the best Victoria secret's perfumes in Pakistan that is perfect for those hot summer days when you want to feel fresh and clean. The sleek purple bottle adorned with golden text and beautiful flower graphics is a sight to behold.
When you spritz this scent, you'll be transported to a world of bliss, with the sweet aroma of peach, the delicate scent of cherry blossom, and the calming qualities of aloe vera and chamomile. And the best part? You won't have to reapply throughout the day because Love Spell has impressive staying power.
5. Victoria's Secret Very Sexy Women
Indulge in the seductive aroma of Very Sexy Eau de Parfum, a tantalizing scent that will leave you feeling alluring and confident. It is one the best Victoria Secret perfume price in Pakistan whose fragrance is a sophisticated twist on classic notes, encased in a provocative and stunning bottle that will steal your breath away.
The combination of sweet vanilla orchid, zesty clementine, and luscious blackberry will awaken your senses and transport you to a world of pure bliss. Surrender to the allure of Very Sexy Eau de Parfum and let the sensation of its scent make you feel absolutely irresistible.
Tips to find the perfect scent for you
Choosing a good perfume can be a subjective and personal process, as everyone has their own unique preferences when it comes to scent. However, there are some general tips and guidelines that can help you find the perfect scent for you:
1. Know your fragrance families: There are several fragrance families, such as floral, citrus, oriental, woody, and fresh. Knowing which family, you tend to gravitate towards can help narrow down your search for the perfect scent.
2. Test perfumes on your skin: Always test perfumes on your skin rather than just smelling them from the bottle. The scent can change depending on your body chemistry, and what smells good on someone else may not necessarily smell good on you.
3. Test perfumes on a blotter: Before applying a fragrance to your skin, test it on a blotter first. This can give you an idea of the fragrance's top, middle, and base notes.
4. Consider the occasion: Different perfumes are suitable for different occasions. For example, a light, the fresh scent may be more appropriate for daytime wear, while a heavier, muskier scent may be more suitable for evening wear.
5. Take your time: Don't rush the process of choosing a perfume. Take your time to test different scents, and wear them for a few hours or even a few days to see how they develop on your skin.
6. Ask for advice: If you're not sure where to start, ask for advice from a sales assistant or a friend who is knowledgeable about perfumes.
7. Don't be swayed by brand names: Just because a perfume is from a well-known brand doesn't necessarily mean it will be the perfect scent for you. Keep an open mind and be willing to try different brands and fragrances.
Trust your instincts: Ultimately, the most important factor in choosing a perfume is how it makes you feel. If a scent makes you feel confident, attractive, and happy, then it's the perfect scent for you.
Conclusion
To conclude, choosing the perfect perfume can be a daunting task, but it's worth the effort. With this list of the 5 best Victoria Secret perfume price in Pakistan and the tips on how to select the right fragrance for yourself, you'll be able to find the perfect scent that suits your style and personality. Remember to consider the occasion, your skin type, and your budget while choosing. With the right perfume, you'll feel confident, alluring, and ready to take on anything.
Also Read: Best Color Printer in Pakistan | 10 Best Ladies Perfumes | 17 Best Perfume for all | 15 Best Perfume for men | Best Watches for Women | Best Men Sandals in Pakistan | Top Shoe Brands in Pakistan | Best Perfume in Pakistan | Best J. Perfumes | Best Skincare Brands in Pakistan | Best Men Clothing brand in Pakistan | 10 Best Shirt Brands in Pakistan