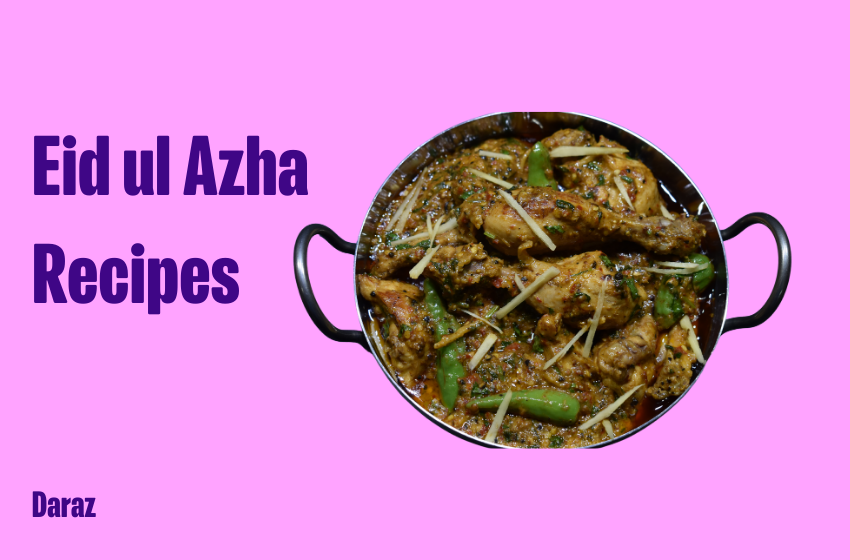 Eid ul Azha Recipes: Delicious Meat Dishes for Festive Celebrations 2023
Eid ul Azha is a special occasion celebrated by Muslims around the world. It involves the sacrifice of an animal and the distribution of meat among family, friends, and the less fortunate. Here are some food dishes you can make for Eid ul Azha recipes using spices, condiments, vegetables, and other ingredients that you can find on Daraz:
1. Biryani
Biryani, a beloved rice dish bursting with flavors, has captured the hearts of many Pakistanis. To craft a truly mouthwatering biryani this Eid, look no further than Daraz. It offers an extensive range of ingredients that will elevate your culinary experience. From fragrant biryani masalas such as Shan or National to the finest basmati rice such as Falak Premium or Guard Awami, Daraz provides everything you need to create delicious biryani.
Also, Daraz Fresh also offers an array of fresh vegetables that will bring vibrant colors and wholesome goodness to your biryani. Combine these vegetables with tender cuts of lamb or chicken, and enhance their flavors with a medley of spices, onions, tomatoes, and aromatic delights like cardamom, cinnamon, and cloves and make a wonderful dish this Eid.
2. Kebabs
Kebabs are a cherished delicacy often enjoyed during Eid celebrations. To make the process easier, Daraz offers a range of ready-made shami kebab mixes, such as the popular Shan Shami Kabab mix or National Shami Kabab. Alternatively, you can create your own flavor-packed blend by combining spices like cumin, coriander, ginger, garlic, and chili powder. Mix the masala with minced meat, shape it into kebabs, and then either grill or fry them to perfection.
To complement the kebabs, Daraz Fresh provides a selection of fresh vegetables that can be used to enhance the overall presentation and taste. Consider pairing the kebabs with a refreshing mint chutney for a delightful burst of flavor. With Daraz's convenient offerings, you can easily access both ready-made kebab mixes and fresh vegetables, making your Eid-ul Azha preparations hassle-free and enjoyable.
3. Seekh Kebabs
Seekh kebabs are a delectable treat, perfect for Eid ul Azha celebrations. On Daraz, you can conveniently find ready-made seekh kebab masalas like National Seekh Kabab masala or Shan Seekh Kabab. Otherwise, you can create your own flavorful blend using spices such as garam masala, paprika, coriander, and cumin, all available on Daraz.
To prepare, simply mix the masala with minced meat, shape the mixture onto skewers, and then grill or bake until cooked to perfection. This Eid ul Azha, make your celebrations special by indulging in the irresistible flavors of seekh kebabs. It is a cherished dish prepared in households across the country during this festive season!
4. Haleem
Haleem, a sumptuous meat and lentil stew, is a true delight for the senses. For your special Eid ul Azha celebration in 2023, Daraz offers a variety of haleem masala mixes like Mehran Haleem or Shan Haleem mix. These mixes typically consist of a harmonious blend of spices such as cinnamon, cloves, and cardamom.
To prepare this heavenly dish, slow-cook your choice of meat (beef or mutton) with lentils, wheat, and the masala mix. Allow the flavors to meld together as the ingredients cook until tender, resulting in a rich and satisfying Haleem! To add an extra layer of flavor and texture to your haleem, Daraz also offers additional toppings like chaat masala and fried onions. Sprinkle it on your Haleem!
5. Masala Chops
Masala chops are a delightful dish of grilled lamb or goat chops marinated in a flavorful spice blend. Daraz offers two convenient options: ready-made masala chop marinades or fresh vegetables from Daraz Fresh like ginger, garlic, coriander, green chilies, and black pepper, along with spices and pastes from Daraz Mart such as Garam Masala powder, Ginger and Garlic Paste, Zeera, and salt.
Simply marinate the chops, let them sit, and then grill or barbecue them to perfection. Elevate your Eid ul Azha celebration with these irresistible masala chops, made easier with Daraz's wide range of ingredients.
6. Kaleji (Liver)
Kaleji , a popular dish made with goat or chicken liver, is a flavorful choice for Eid ul Azha. On Daraz, you can find ready-made kaleji masala mixes like Chef's Pride Dil Kaleji or create your own using spices such as turmeric, cumin, coriander, red chili powder, and garam masala available from Daraz Mart. Simply sauté the kaleji with onions, tomatoes from Daraz Fresh, and the masala until it is cooked through and infused with aromatic spices. Make this Eid ul Azha lunch or dinner extra special with a delicious serving of kaleji, made easier with the convenience of Daraz.
7. Achaar Gosht
Spice up your Eid ul Azha celebration in 2023 with Achaar Gosht. Daraz Fresh offers fresh vegetables, while Daraz Mart provides Achaar Gosht masalas like Family's Food Achaar Gosht or National Achar Gosht. Sauté meat with onions and tomatoes, then add the masala for a tangy and flavorful dish.
Gather your loved ones and savor the tantalizing aroma of Achaar Gosht cooking in your kitchen. With Daraz's convenient access to fresh vegetables and authentic masalas, you can create a memorable feast that will be cherished on this joyous Eid ul Azha in 2023.
8. Nihari
Make your Bakra Eid celebrations extra special with the mouthwatering flavors of Mutton Nihari. Daraz offers a variety of masalas to enhance your cooking experience, including popular choices like Shan's Nihari Masala or Family Food's Nihari Masala.
Slow-cook tender mutton with the chosen masala blend, allowing the rich flavors to develop into a delectable Nihari that will delight your taste buds and add a touch of tradition to your festive spread. Add coriander, garlic, and lemon on it as a topping from Daraz Fresh. With Daraz, you can easily find the ingredients and masalas to make your Nihari a standout dish on Bakra Eid.
9. Mutton Pulao
Let the enticing aroma of Mutton Pulao fill your home this Bakra Eid. Daraz has got you covered with National Pulao or Masalaywala Pulao masala, a convenient ready-made mix that saves you time and effort in the kitchen. Imagine tender mutton cooked with fragrant rice, infused with the flavors of the pulao mix.
Each spoonful promises a burst of deliciousness that will delight your taste buds and bring joy to your festive gathering. With Daraz, you can easily find all the ingredients and spices you need to create a memorable Mutton Pulao that will be the star of your Bakra Eid feast.
Conclusion
Remember to follow proper cooking guidelines and hygiene practices while preparing these dishes. Do check out the availability of specific ingredients on Daraz, as the availability may vary. Additionally, feel free to adjust the spices and flavors according to your taste preferences. Enjoy the delicious flavors and have a wonderful Eid ul Azha celebration! Make your Eid special using the groceries you can purchase from Daraz.
Also, read Best BBQ Grill price in Pakistan, Best Mini Fridge in Pakistan, Best BBQ Party Ideas, EID-UL-ADHA BBQ RECIPES, Eid ul Adha 2023, Fridge Buying Guide, Significance of Eid ul Adha