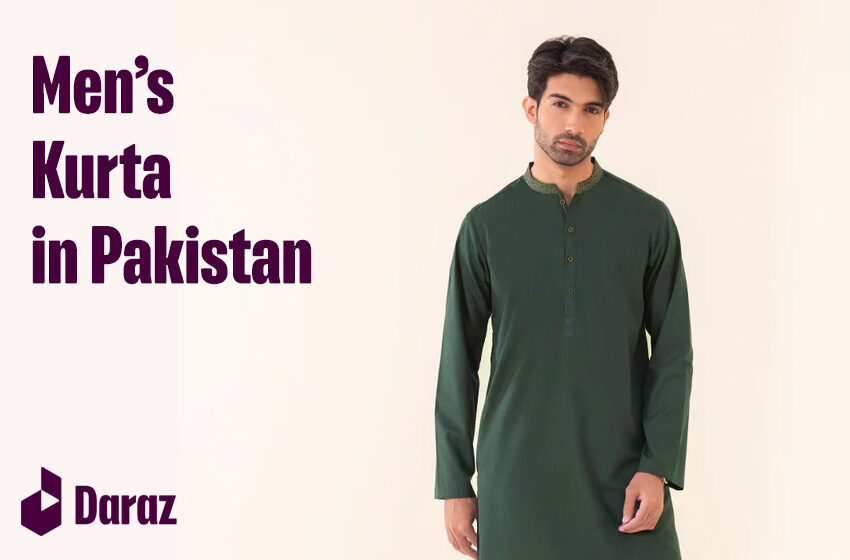 Mens Kurta Price in Pakistan: A Comprehensive Guide to Latest Trends and Prices
Kurta is a traditional and versatile outfit that is widely worn by men in Pakistan. It is a loose-fitting and knee-length shirt that is usually paired with different styles of bottoms such as shalwar, pajama, or churidar. Kurta is loved for its comfortable and airy design, making it suitable for both formal and casual occasions. This traditional attire showcases intricate embroidery and unique patterns, making it a favorite choice for festive seasons and special occasions. Find out the best mens kurta price in Pakistan.
Types of Mens Kurtas
When it comes to traditional attire for men in Pakistan, nothing is more popular and versatile than a kurta. Whether it is for formal events or daily wear, the kurta offers a wide range of options to choose from. With intricate embroidery, luxurious fabrics, and contemporary designs, Pakistani kurta brands have created a complete range of options for every occasion. In this article, we will explore the different types of men's kurtas available in Pakistan, from classic and formal styles to trendy and casual designs.
1. Classic Kurtas
Classic kurtas are perfect for special occasions and festive seasons. They are often made with high-quality fabrics such as silk or brocade and feature intricate detailing and embellishments. These kurtas are designed to make a statement and are available in a wide variety of colors and patterns.
2. Casual Kurtas
For daily wear or more relaxed occasions, casual kurtas are the go-to choice. These kurtas are usually made with comfortable fabrics like cotton and linen and are available in a range of colors and prints. They offer a more laid-back and effortless look while still maintaining the elegance of traditional attire.
3. Contemporary Kurtas
For modern men who want to make a style statement, contemporary kurtas are the perfect choice. These kurtas feature unique cuts, innovative designs, and a mix of traditional and modern elements. They are often made with luxurious fabrics like jacquard or velvet and are ideal for formal events or special occasions.
4. Designer Kurtas
Designer kurtas are crafted by renowned Pakistani designers and offer the utmost quality and style. These kurtas feature exquisite embroidery, intricate beadwork, and unique embellishments. They are often made with fine fabrics like chiffon or silk and are perfect for weddings or other formal events.
10 Best Mens Kurta Price in Pakistan
When it comes to men's fashion in Pakistan, the kurta has always been a popular choice. Whether it's for a formal event or daily wear, the kurta's versatility and traditional charm make it a favorite among men of all ages. If you're looking for the best kurta brands that offer a wide range of options at different price points, here are 10 top brands to consider:
1. Junaid Jamshed: Known for its intricate embroidery and luxurious fabrics, Junaid Jamshed offers a complete range of contemporary designs for special occasions and everyday wear.
2. Amir Adnan: This Pakistani designer brand is renowned for its fusion of traditional and modern styles. Their kurta collection features unique cuts and patterns, perfect for the fashion-forward man.
3. Gul Ahmed: With a wide variety of designs and fabrics, Gul Ahmed caters to all style preferences. Whether it's a classic cotton kurta or an embroidered masterpiece, you'll find it in their collection.
4. Ethnic by Outfitters: This brand combines traditional aesthetics with contemporary design elements, offering a range of kurta designs suitable for festive seasons and formal events.
5. Bonanza Satrangi: Bonanza Satrangi's kurta collection features colorful kurtas in various patterns and styles. From cotton to designer options, they have something for every occasion.
6. Alkaram Studio: Alkaram Studio is known for its vibrant prints and exquisite embroidery work. Their kurta collection includes formal and casual options, all crafted with attention to detail.
7. Edenrobe: Offering a diverse range of gents' kurtas, Edenrobe is a go-to brand for those seeking affordable yet stylish options. Their collection includes classic kurtas as well as trendy designs.
8. Nishat Linen: Nishat Linen is famed for its high-quality fabrics and intricate designs. From traditional kurta pajamas to contemporary jackets, their collection caters to all tastes.
9. Sapphire: Sapphire's kurta collection showcases a mix of traditional and contemporary designs, incorporating beautiful prints and elegant embroidery. Their range is perfect for both formal and casual occasions.
10. Bareeze Man: Bareeze Man combines traditional craftsmanship with modern aesthetics, offering a wide range of kurta designs. From chikankari to formal kurtas, their collection is timeless and sophisticated.
These top 10 men's kurta brands in Pakistan cater to different price ranges and are readily available in stores and online. Whether you're a fan of classic designs or prefer more contemporary styles, you'll find the perfect kurta to suit your taste and occasion.
Where to Buy Mens Kurta in Pakistan?
In Pakistan, men's kurta is a popular traditional outfit that is widely worn for various occasions and events. The demand for stylish and trendy kurtas has led to the emergence of several brands offering a wide range of designs and options. If you are wondering where to buy men's kurta in Pakistan, you can explore the following top brands that are known for their impeccable craftsmanship, quality fabrics, and contemporary designs.
Conclusion
When it comes to buying men's kurta in Pakistan, these brands offer the perfect combination of style, quality, and affordability, ensuring that you can find the ideal kurta for any occasion or event. So, explore these brands and choose the one that best suits your personal style and preferences.
In conclusion, the mens kurta price in Pakistan varies depending on the type of kurta you choose, the fabric used, and the level of craftsmanship involved. Whether you are looking for a classic, casual, contemporary, or designer kurta, you can find a wide range of options to suit your style and budget.
Also Read: Peshawari Chappal | Women Nightwear | Best Men Sandals in Pakistan | Top Shoe Brands in Pakistan | Best Perfume in Pakistan | Best J. Perfumes | Best Skincare Brands in Pakistan | Best Men Clothing brand in Pakistan | 10 Best Shirt Brands in Pakistan