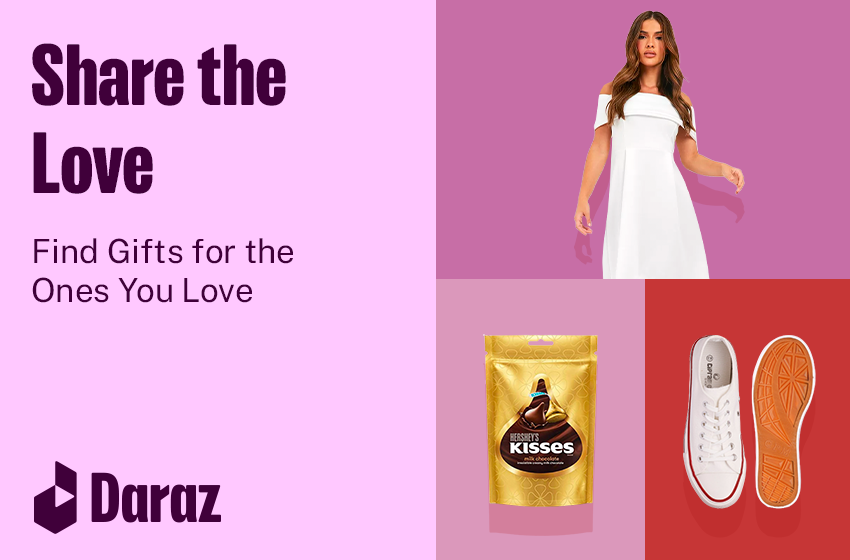 Love is in the air- Special Gift Wrapping Products
Whether you're looking to express your love with a classic box of chocolates or a bouquet of brightly colored flowers, Daraz Mall has the perfect gift packaging option to help make the day even more special set. Their collection of personalized ribbons and boxes comes in all different sizes, colors, and designs so that you can find something that your significant other is sure to love. With their help, you can make sure your gift stands out from all the rest.
At Daraz Mall, you can be sure to find something that meets your needs and requirements. From nostalgic memorabilia to cuddly teddy bears, their gift-wrapping options will be sure to bring a sparkle to your eyes. No matter what style or size you're looking for, you can be sure to find the perfect way to surprise the love of your life at Daraz Mall.
List of 10 Special Gift Wrapping Products
1. Love Day gift box
A three-layer box is a great gift idea for Love Day. It can be used to store small presents and sweet messages for special people. The handcrafted aspect of the box adds an extra-special touch.
2. Envelope Flower Box
Conveying your affection for someone can be done in a variety of ways, none more traditional than with chocolates. This envelope flower box is an ideal size for giving treats or other thoughtful presents as it adds an extra level of hearts and style to the act.
3. 3D pop up greeting postcard with an envelope
Show your special someone how much you care with our one-of-a-kind 3D pop-up heart laser cut greeting postcards. Handcrafted with vintage design elements, each card comes with its own envelope to show that extra bit of thoughtfulness. Make sure to express your appreciation and convey just how deep your love runs by saying "thank you Love in the Heart"!
4. Square Gift Basket-with Free Colorful net wrap
This Square Gift Basket is the perfect way to show your significant other how much you care! The unique and beautiful design offers plenty of space for you to customize with your partner's favorite items, such as chocolates, stuffed animals, jewelry, and anything else that can add up to create an unforgettable memory. Plus, the free colorful net wrap included makes the entire experience even more special! Get this truly stunning gift today and make sure that your loved one feels cherished.
5. Heart shape Candy boxes
This Love Day, don't just give your special someone ordinary chocolates and a card. Give them something unique that they'll love – a beautiful heart-shaped candy box! Constructed out of brand-new, premium material with an exquisite hollow-out heart design, this eye-catching box will add the perfect touch to this occasion. Fill it with colorful candies and let its beauty speak for itself – you'll be sure to make every moment more memorable and unique when you gift them Heart Shaped Candy Boxes.
6. Cardboard Jewelry Gift Box
Give your spouse a romantic and thoughtful gift this year with our gorgeous cardboard jewelry gift box set! This set comes with lids, bows, and other accessories for an idyllic display. Perfect for any woman in your life to show her how much she means to you. Don't wait in advance: get the perfect present now and surprise your loved one with something memorable!
7. Gift wrapping Paper sheets
Make your special someone feel extra loved with this DIY Gift Wrapping Paper Sheets Set of 6! Whether they love a classic romantic style or something more modern, this assorted set is sure to have something that fits their joyous occasion. Forget the hassle of going out and trying to find just the right gift wrap-with these gorgeous sheets, you can make it easy for yourself and still make a stunning presentation for your recipient. Make them feel extra special by giving the perfect finishing touch to an already thoughtful gesture.
8. Heart-shaped Candy Box
Make your love feel special with our unique heart-shaped wood candy box. This box is constructed lovingly with a beautiful design, handpicked natural wood, and a secure lid to keep the candies safe. Show that someone extra special that you care with this one-of-a-kind gift tailored just for them – don't let them down! Make sure they know how much you appreciate and love them on this very meaningful day by giving them something they can cherish forever as a reminder of your undying affection towards them.
9. Treat Bags with Drawstring Candy Bags
Show your special someone how much you care with one of our unique punched-paper treat bags! Our treat bags are perfect for sharing love with a truly personalized gift. Each bag is adorned with whimsical, romantic designs that will make any heart flutter! You can add any personalized gift or candy to it. With these beautiful punch-paper bags, this gift will be even more meaningful than ever before.
10. Garland Roll Natural Jute Ribbon Burlap Hessian Lace
If you're looking to add a special touch of flair to your creative projects and gifts, Garland Roll lace is the perfect embellishment. It's the perfect choice for making beautiful bows, decorative boxes, floral arrangements, or arranging an amazing bouquet. Equally gorgeous when used to adorn presents or homemade candies. Not only will it make all of your designs look great but they'll feel special too since Garland Roll lace can easily be matched with almost any decoration – so your relatives and friends are sure to notice!
Conclusion
When it comes to expressing your love, nothing says "I love you" like a thoughtful and meaningful gift. But don't forget the presentation! Daraz Mall has a vast selection of gift-wrapping products to make sure your special someone feels extra special. By using the above gift products, make sure your special someone feels extra loved this year!
Also Read: Valentines Day Special | Valentines Day Gift | Saeed Ghani hair Growth Water | Best Bridal Shower Gift Best Serum for Acne Scars | Best Vitamin C serum in Pakistan | Best Branded Skincare Brand in Pakistan | The Ordinary Glycolic Acid Serum | The Ordinary Peeling Solution | Best Hand Cream in Pakistan | Best Cleanser in Pakistan | Best Glowing Serum | Best 24k Gold Serum | Best Retinol Cream | Best Acne Soap for Pimples