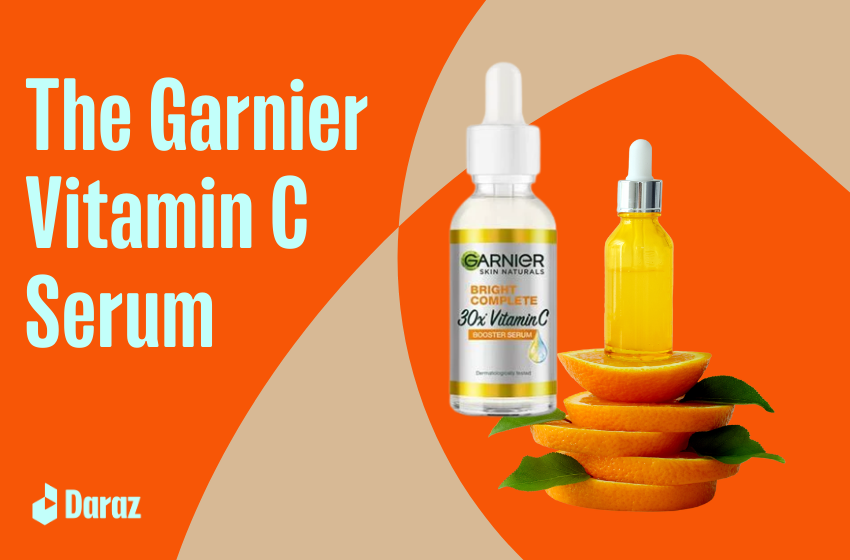 The Garnier Vitamin C Serum- A complete review with price 2023
Garnier Vitamin C Serum is a skincare product designed to brighten and energize dull and tired-looking skin. It is formulated with 10% pure vitamin C, an antioxidant that helps to protect the skin from environmental stressors and promotes collagen production for a more youthful and radiant complexion. The serum also contains hyaluronic acid, which helps to hydrate and plump the skin, reducing the appearance of fine lines and wrinkles. Overall, the Garnier Vitamin C Serum provides a range of benefits, including brighter, more even-toned skin, improved texture, and increased hydration and firmness. Its price is Rs. 1,455.
Today in this blog, we will be reviewing The Garnier vitamin c serum from its benefits and its uses.
1. What is Vitamin C and why is it important for the skin?
Vitamin C, also known as ascorbic acid, is a water-soluble vitamin that is essential for the growth, development, and repair of tissues in the body. It is also an important antioxidant that helps to protect the body from damage caused by harmful free radicals.
2. How does it work on the skin?
When it comes to skin health, Vitamin C is particularly beneficial due to its antioxidant properties. It works by neutralizing free radicals, which are unstable molecules that can damage the skin's cells and lead to premature aging, wrinkles, and other signs of skin damage. By neutralizing these free radicals, Vitamin C helps to protect the skin from environmental stressors such as pollution, UV radiation, and cigarette smoke.
3. Benefits of Vitamin C Serum
Reducing fine lines and wrinkles: By promoting collagen production, Vitamin C can help to reduce the appearance of fine lines and wrinkles.
Brightening the complexion: Vitamin C has been shown to help reduce hyperpigmentation and brighten the complexion, leading to a more even and radiant skin tone.
Improving skin texture: Vitamin C helps to exfoliate and smooth the skin's surface, improving texture and reducing the appearance of roughness or unevenness.
4. What is the Garnier Vitamin C Serum?
If you're seeking to revive your skin and address issues like dullness, pigmentation, and dark spots, we have a solution. Introducing the Garnier Vitamin C Serum – a highly concentrated spot-reduction formula that offers unparalleled results. This antioxidant-rich face serum is designed to brighten your skin from the first application and reduce dark spots and acne marks within three days. Incorporating the Garnier Bright Complete Vitamin C serum into your skincare routine can help you achieve a radiant, healthy, and glowing complexion.
5. Price of Garnier Vitamin C serum
The price of Garnier Vitamin C serum is Rs. 1,455 available on Daraz.
6. How to use the Garnier Vitamin C Serum?
Step 1
Begin your skincare routine with the first step of cleansing by using the Garnier Bright Complete facewash which is gentle, yet proficient in removing impurities. After cleansing, gently pat your face dry.
Step 2
Next, dispense a few drops of the Garnier vitamin C serum onto your palms and rub them together. Apply the serum to your face and neck using gentle tapping motions.
Step 3
Complete the routine by using the Garnier Bright Complete Vitamin C Serum Cream with SPF 40/PA +++ in the morning and the Garnier Bright Complete Vitamin C Yoghurt Night Cream before going to bed. For optimal results, it is recommended to use these products on a daily basis.
7. Review of Garnier Vitamin C serum
Many people have found the Garnier Vitamin C Serum to be an effective addition to their skincare routine. Some people have reported that the serum has helped to brighten their complexion, reduce the appearance of fine lines and wrinkles, and improve overall skin texture and hydration. Many people have also noted that the serum has a lightweight and non-greasy texture that absorbs quickly into the skin.
However, as with any skincare product, individual results may vary, and some users have reported experiencing irritation or sensitivity after using the serum. It's always a good idea to patch-test any new skincare product and to discontinue use if you experience any adverse reactions.
Overall, the serum seems to be a popular choice among those looking to brighten and revitalize their skin, and it may be worth considering as part of a daily skincare routine.
8. Benefits of Garnier Vitamin C serum
SKIN BRIGHTENING: It is a potent, antioxidant-rich face serum that effectively aids in achieving brighter, healthier-looking skin in just a few uses.
FADES DARK SPOTS: In just three days, this serum has proven to reduce the visibility and density of dark spots, leaving your skin looking brighter and feeling fresh.
INFUSED WITH VITAMIN C AND LEMON: Infused with powerful ingredients such as vitamin C and Yuzu lemon extract, ensuring maximum skin benefits.
NON-GREASY FORMULA: A non-greasy formula that quickly penetrates the skin without leaving any oily or sticky residue, making it an ideal addition to your skincare routine.
FAQS
1. How do you use Garnier vitamin C serum on your face?
Incorporating this skincare product into your nightly regimen can effectively revitalize your skin, priming it for optimal radiance and nourishment come morning.
2. Does this serum work in 3 days?
Our Vitamin C Serum effectively enhances the brightness of your skin while minimizing the appearance of dark spots in terms of color, density, and size in a mere three days.
3. How many drops of serum should I use?
When it comes to applying serums, it's generally recommended to use a conservative amount. While this may vary depending on the product, a common guideline is to use 3-4 drops or an amount equivalent to the size of a pea.
Conclusion
This serum is an ideal product to start your skincare routine. This cleanser helps to gently remove makeup, dirt, and oil while leaving your skin feeling refreshed, hydrated, and glowing. The formula is enriched with Vitamin C, which helps to brighten the complexion and fights visible signs of aging. Plus, it's non-comedogenic, so it won't clog pores.
Also Read: Best Women Watches | Best Serum for Acne Scars | The Ordinary Glycolic Acid | The Ordinary Peeling Solution | Best Wax Heater in Pakistan | Best Eyeliner in Pakistan | Best Skincare Brands in Pakistan | Best Electric Kettle in Pakistan | Best Dispenser in Pakistan | Best Microwave Oven | Best LED TV in Pakistan | Best Mattress in Pakistan | Best Electric Stove in Pakistan | Best Duvet in Pakistan | Best Hand Blender in Pakistan | Best Jewellery in Pakistan