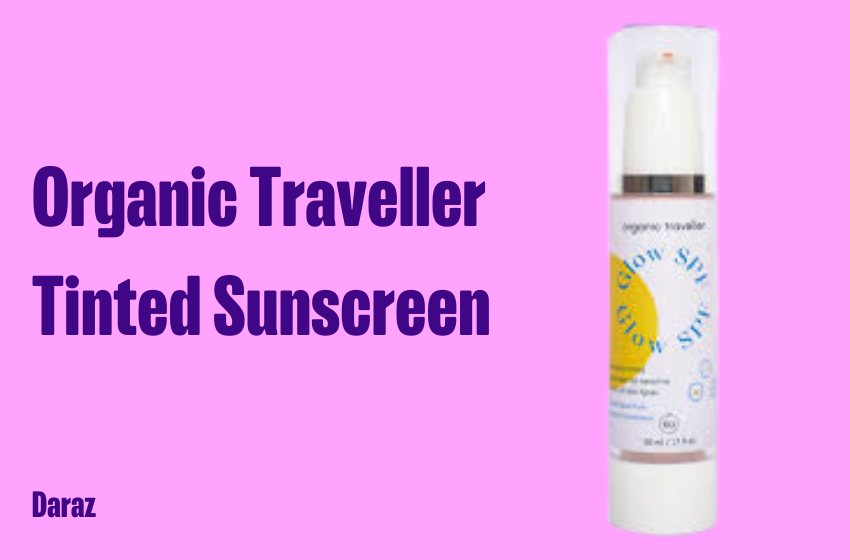 Organic Traveller Sunscreen Price in Pakistan (2023)
Finding organic skincare companies in Pakistan has become much easier with the range of options available. Organic Traveller sunscreen offers natural, cruelty-free ingredients that have no negative environmental impact and would eliminate any use of unpronounceable chemicals and pesticides. Making the switch to these products can be beneficial both for your skin as well as the planet. In this blog, we will be reviewing Organic traveller sunscreen.
Price list
Glow SPF: Tinted Sunscreen
1. What is Glow SPF: Tinted Sunscreen?
The Glow SPF – is the answer to all your tinted mineral sunscreen needs. Offering SPF 60 and broad-spectrum protection to shield your skin from harmful UV rays, this formula is suitable for all skin tones. Its lightweight coverage and lightweight texture blend so flawlessly with your skin, it feels like a second layer of skin. With the Glow SPF, you can feel at ease all day knowing your skin is safe and feeling great.
2. Why the glowing tint formula?
Many mineral-based sunscreens can leave a white cast on the skin, making them difficult to use for people with darker skin tones. Adding a hint of tint to the sunscreen can reduce this white cast and leave behind an even and natural-looking layer of coverage.
In addition to reducing the white cast, the tint can also add a bit of extra protection from the sun's UV rays. The added protection makes it easier to stay out in the sun without worrying about skin damage. A tinted sunscreen can even out the skin tone and make it more resistant to sunburns.
Overall, adding a light tint to a mineral sunscreen can provide better coverage and make it easier to enjoy time outdoors. The tinted product can help reduce the white cast and provide additional sun protection for a more even and natural-looking finish.
3. Benefits
Will not strongly irritate delicate skin.
Is lightweight.
Does not leave an obvious white cast.
Provides a sheer and natural-looking finish.
The glow spf features a tint designed to even out skin tones, which can be blended seamlessly into the skin.
Sheer SPF: Oily/Acne Prone Skin Sunscreen
1. What is Sheer SPF: Oily/Acne Prone Skin Sunscreen?
With an SPF of 40 and broad-spectrum protection, The Sheer Spf is suitable for all skin types. It's been developed specifically to meet the needs of those with acne-prone and oily skin so that you won't be left with a white cast.
The unique formula of this sunscreen includes natural ingredients that gently protect your skin while moisturizing it at the same time. This potent combination of SPF and hydration can help you to maintain glowing and healthy skin all day long, without worrying about irritation and damage from the sun.
2. Why ultra sheer silk-like formula?
This revolutionary formula promises complete sun protection and maximum comfort. The invisible film is created to easily glide onto your skin, so you won't have to worry about a sticky or greasy feeling. We know how important it is to have a sunscreen that both protects you and boosts your natural radiance.
Furthermore, our formula is tested and approved by dermatologists. You can trust that it will be gentle on your skin, protecting it from the elements, while leaving you feeling like you're wearing no sunscreen at all. Our sunscreen is ultra-lightweight, leaving your skin with a sun-kissed glow, without clogging your pores.
3. Benefits
This product has advanced filters to ensure careful application.
The odorless formula for enhanced usability.
Does not clog pores for a breathable finish
Shields skin against UV rays up to PA+++ level of protection
Recommended as an ideal choice for those affected by acne-prone skin
Developed with consideration of various darker skin tones
Conclusion
We highly recommend the Organic traveller sunscreens Glow SPF: Tinted Sunscreen and Sheer SPF: Oily/Acne Prone Skin Sunscreen. These sunscreens are top-notch when it comes to protection and nourishment for your skin. Not only do they provide a complete cover against the damaging UV rays of the sun, but they also do so while nourishing and taking care of your skin in return.
These sunscreens are also lightweight, causing no clogging and allowing your skin to breathe. They are perfect for outdoor activities, such as hiking, biking, and camping. It's highly recommended that you keep a couple of these with you wherever you go.
And with the detailed article that we have provided, you'll be able to make an informed decision when it comes to buying both of these organic traveler sunscreens.
Also Read: Weight Machine | Best Grooming Products for Men | Helmet in Pakistan | Best Hoverboard price in Pakistan | Best HDMI Cable | Best Serum for Acne Scars | The Ordinary Glycolic Acid | The Ordinary Peeling Solution | Best Wax Heater in Pakistan | Best Eyeliner in Pakistan | Best Skincare Brands in Pakistan | Best Electric Kettle in Pakistan | Best Dispenser in Pakistan | Best Microwave Oven | Best LED TV in Pakistan | Best Mattress in Pakistan | Best Electric Stove in Pakistan | Best Duvet in Pakistan | Best Hand Blender in Pakistan | Best Jewellery in Pakistan