2023 Ramadan Iftar Menu Ideas – 10 Delicious Dishes to Bring Comfort and Joy to Your Table
Ramadan 2023 is just around the corner and it's time to start thinking about what delicious iftar menu ideas you can serve!
Here are some iftar menu ideas for iftar dishes that you can try this year. From traditional favorites like samosas and rolls to unique recipes like peri bites and bbq sandwiches, there are plenty of options for everyone.
So get creative in the kitchen this Ramadan and make your iftar meals even more special!
1. Chicken Samosa
Chicken Samosas are one of the most beloved snacks around the world. With its tantalizing blend of spices, vegetables, and various fillings, it's no wonder why samosas have been a popular iftar food for centuries.
You can also buy frozen chicken samosa from Daraz, it is not just convenient but delicious in taste. Check Big Bird Samosa on the Daraz app or find any other brands according to your preference.
2. Bread Rolls
Bread rolls have been a staple of Iftaar meals for centuries. Whether enjoyed as part of a hearty meal or as a tasty snack, these warm and fluffy delights are a favorite among families. You can smell the wonderful aromas of freshly-baked bread rolls wafting through the air during Iftaar time, signaling that it's time to break the fast.
The smell of these rolls, combined with the sight of a steaming plate of them, is enough to make your mouth water. Just one bite of these delicious rolls is enough to make you feel like you're in heaven.
3. Pakoras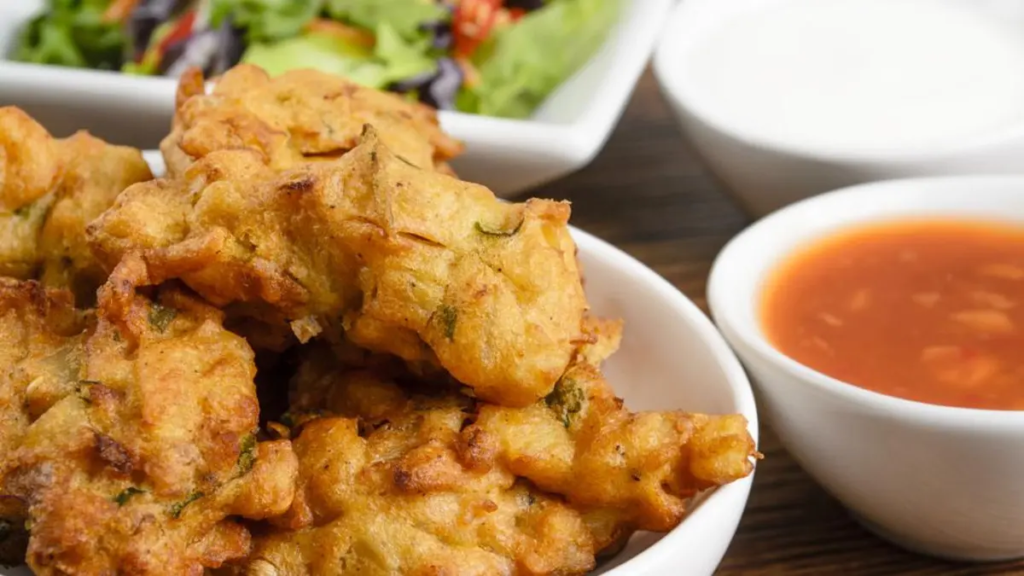 Whether you like them with a traditional chutney or a tangy tamarind dip, pakoras are a must-have during iftar. Pakoras are a beloved treat during Ramadan iftar. The crispy, fried morsels of potatoes, onions, and spices are a perfect accompaniment to the iftar meal. They are a great way to break the fast, as their savory flavor is both familiar and comforting.
Many families have their own special recipe for pakoras, passed down through generations. The smell of pakoras frying in the kitchen during Ramadan is a sure sign that iftar is near!
4. Fruit Chaat
Fruit chaat is a delightful and nutritious delicacy, perfect for breaking the fast during Ramadan iftar. A traditional favorite of many cultures, the chaat consists of a variety of fruits chopped into small pieces and served with a tangy and spicy sauce. This refreshing dish is sure to tantalize the taste buds and leave everyone feeling satisfied.
As an added bonus, the fruits are packed with antioxidants, vitamins, and minerals that will help replenish energy levels during the Holy Month
5. Cheese sticks
Cheese sticks are a perfect addition to any Ramadan iftar. Their delicious flavor, paired with the spiced dipping sauces, is sure to tempt the taste buds of all who dig in. Plus, the crunchy texture and melty cheese of the sticks are sure to bring a smile to everyone's face.
Whether you're stocking up for iftar or are feeling a bit of a snack attack, don't forget to add cheese sticks to your list! Their flavor will add an extra touch of joy to your Ramadan celebrations.
6. Peri peri
Peri peri bites make a delicious addition to any Ramadan Iftaari. They are the perfect way to give your Iftaari a little kick of flavor! With a combination of spicy and fragrant spices, these bites are sure to tantalize your taste buds.
Plus, they're easy to make, allowing you to spend your time focusing on other aspects of your Iftaari. Serve them up with a refreshing drink and you'll be sure to satisfy everyone's hunger. It's a great way to make your Iftaari even more special!
7. Dahi Baray
Dahi Baray is a savory surprise for anyone who dives in for a delicious snack during iftar. Popular among Pakistanis, these delectable morsels delight the taste buds with their crispy fried shell and tangy sauce. The bursting flavors and textures make them the perfect treat for the end of a long and hot Ramadan day.
The dish consists of small fried balls, made of lentils or split peas, filled with yogurt, sugar, spices, and even nuts like almonds. All the ingredients are expertly blended together to make a tasty delight that you won't forget. It can be served with various sides like chutney, pickles, and even Sev.
8. Chana Chaat
If you're looking for a delicious side dish to serve during Ramadan, try Chana Chaat! This simple, tasty dish is full of tangy, bold flavors and will leave you and your guests wanting more. Pair it with other delicious Ramadan favorites like samosas, biryani, or kabobs for a filling Iftar meal.
Chana Chaat is a combination of cooked and spiced chickpeas, onions, tomatoes, and chilies, combined with all sorts of herbs and spices. The finished dish is an explosion of flavor and texture, with a bit of a kick to it.
9. Bbq sandwiches
For something more unique, why not try BBQ Sandwiches? Spicy chicken or beef marinated in a blend of spices, grilled until golden brown, and stuffed into warm pita bread – this dish is sure to be a crowd-pleaser!
10. Chicken rolls
Chicken roll is the ultimate food for iftar time. Whenever people come to break their fast after a whole day of fasting, the convenience and mouth-watering taste of chicken rolls are one of the best options. Its ingredients include tender and juicy chicken pieces that have been marinated with a combination of light spices, garlic paste, and chili powder. Then combine with cheese, capsicum, and onions and wrapped in a thin crust.
It takes just minutes to fry the chicken roll and is an ideal food for iftar time. Not only is it delicious and light on the stomach, but it is also easy to make and a great alternative to fried chicken or meat.
Conclusion
Ramadan is a time to bring joy and comfort to your family and friends by enjoying delicious iftar menu ideas together. With these 10 delicious dishes, you can make iftar even more special this year! Whether it's a classic samosa dish or something unique like peri-peri bites, there are plenty of options for everyone. So get creative in the kitchen this Ramadan and create some unforgettable iftar menu ideas that will bring comfort and joy to your table.
Also Read: Ramadan Good Deeds | Things you need to know before buying microwaves | Best BBQ price in Pakistan | Best sunblock in Pakistan for every skin type | Best Electric Stove in Pakistan | Best Roti Maker in Pakistan | Best LED TV in Pakistan | Best furniture brands in Pakistan | Best UPS battery in Pakistan | Best UPS inverter in Pakistan | Best Mattress in Pakistan | Best Clothing brands for Men | Best Hand Blender in Pakistan